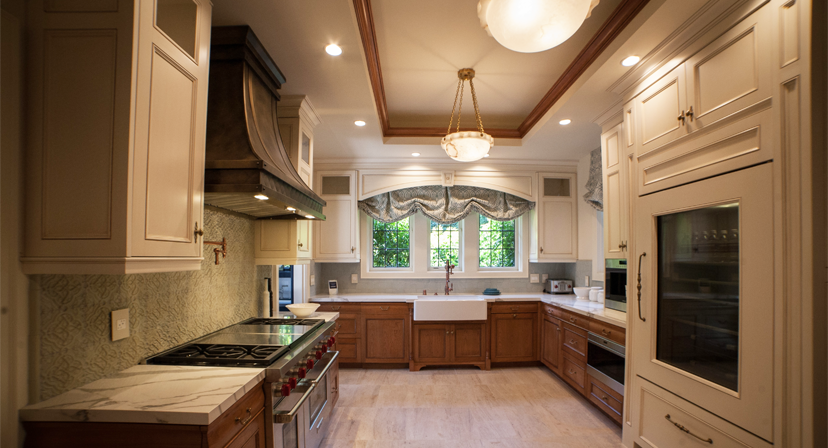 The Pasadena Showcase House of Design is an annual event where local designers takeover a home and redesign each room. Each room is a testament to the designer's' unique vision and provides an inside look into 2017 trends in style and technology. This year's Showcase House featured an array design themes. Despite the varied personalities in each room; a few key themes stood out. Look for these motifs throughout the Showcase House and discover new design ideas you can apply to your own home as well.
Mixed metal fixtures can be seen throughout the house. From the eye-catching nautical-inspired kitchen faucet to the rose gold crib in the nursery – warm and mixed metals are a staple this year. Look for gold accents in the Loggie and an oil-rubbed bronze hood over the range in the kitchen.
Technology is a greater part of everyday life and the Showcase House designers embraced technology to the fullest. Prepare to be surprised by a drop-down TV in bedroom and the integrated speakers in the Upstairs Guest Bedroom. Other touches like WiFi-enabled appliances and app-controlled lights add to the experience.
Nature motifs like the hand-painted nature mural in the foyer and staircase and the shadowbox art in the gardener's cottage add subtle hints of nature and complete the space. Indoor-outdoor areas like the Loggia and patio also provide a beautiful combination of indoor comfort and natural inspiration.
The Showcase House will be open for tours from April 23 to May 17, 2016. Parking and complimentary shuttle service is at Pasadena Rose Bowl – Lot I, 360 North Arroyo Boulevard, Pasadena.
Tickets cost between $35 and $45 and can be ordered by mail, online at PasadenaShowcase.org or by calling (714) 442-3872.