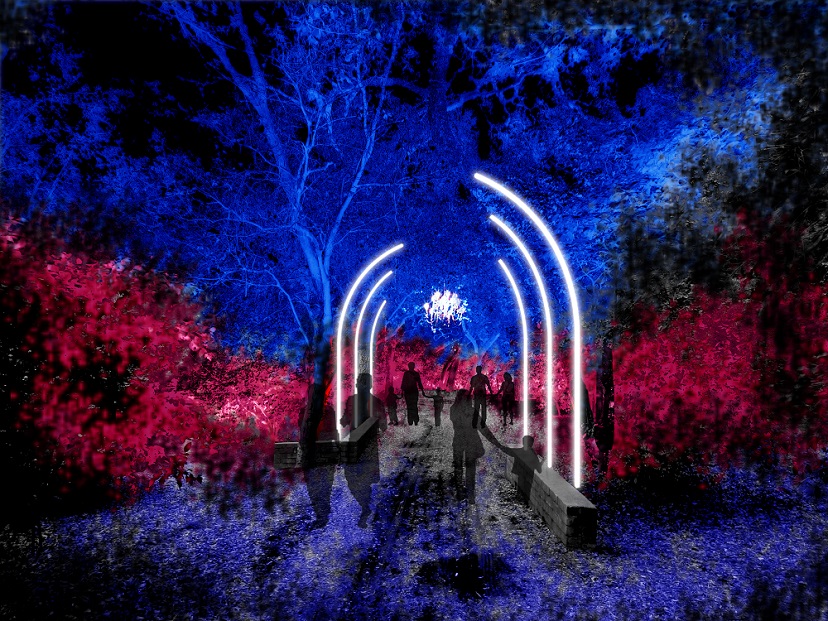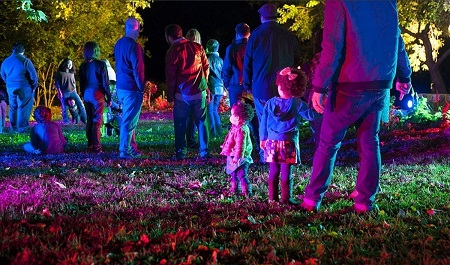 Register for programs at the Visitor Center or phone (818) 949-7980 unless noted. Some classes require advance registration. Details on classes at descansogardens.org.
"Enchanted: Forest of Light" ticket sale begins, Thursday, Sept. 1: Don't miss Descanso Garden's brilliant interactive light show, which runs Nov. 25 through Jan. 8, 2017. This family-friendly event is a multi-sensory spectacular featuring 10 large-scale lighting displays that showcase the Gardens you love! Tickets available online and in advance only. Find details at enchantedla.com.
Little Explorers, Saturday, Sept. 3, 10:30 – 11:30 a.m.: Explore Descanso Gardens from the ground up with your youngsters ages 2 to 5. On the first Saturday of the month, Little Explorers use their senses to discover the natural world through hands-on activities and crafts. Free with admission.
Weekend Walks, Saturdays and Sundays, 11 a.m.: See what's happening in the Gardens on these docent-guided walks that highlight points of seasonal interest. Subject to weather and availability; please call ahead at (818) 949-4200. Free with admission.
Painting Nature, 6 Saturdays, Sept. 24 – Oct. 29, 10 a.m. – noon: Join artist R. Jay Ewing for a watercolor class for beginning and intermediate students. $90 members, $120 nonmembers. Students will be emailed a materials list after registration. Register for this series in person at the Descanso Gardens Visitor Center or by phone at (818) 949-7980.
Highlighted Event:
LA Wildlife Symposium, Saturday, Sept. 17, 9 a.m. – 3 p.m.
Los Angeles is full of wildlife. Learn about our local fauna; discover why urban biodiversity is important; and find out how you can attract wildlife in your garden. Free to members. (Workshops subject to change.)
The LA Wildlife Symposium is free with admission to Descanso Gardens. The program schedule includes:
• "Planning for Urban Wildlife Conservation," 9 a.m.: Sophie Parker of The Nature Conservancy will discuss the importance of urban wildlife and her work on the Los Angeles River.
• "LA Wildlife: What's Out There," 10:15 a.m.: Brian Brown from the Natural History Museum of Los Angeles County shares discoveries made by scientists from the Urban Nature Research about LA's wildlife, including sometimes surprising findings from projects on bugs, lizards, spiders, squirrels, snails, slugs and more.
• "Oak Woodland Walk," 11 a.m.: Join Native Garden Horticulturalist Layla Valenzuela for a walk and explore Descanso's Oak Woodland, a wildlife restoration site.
• "Gardening for Wildlife," 11:45 a.m.: Lisa Novick of the Theodore Payne Foundation shares how to support biodiversity by revitalizing your space with the native plants our butterflies, caterpillars (the main food of baby birds!), hummingbirds and other critters need for survival.
• "Citizen Science: Involving the Community," 1 p.m.: Citizen science projects are amazing opportunities for everyone, from children to adults, to get involved in understanding the nature around us. Richard Smart, Citizen Science Coordinator at the Natural History Museum of Los Angeles County, will share examples of community engagement and the discoveries that have come from public contributions to scientific studies.
• "Big Cats & Bats: Urban Mammals in LA," 2:15 p.m.: Wildlife biologist Miguel Ordeñana discusses mountain lions, bats and other urban wildlife he studies in the mountains surrounding LA and inside the city.
Other highlights:
• Live animal encounter!, 10 a.m. – 1 p.m.: Get a close-up look at some of the reptiles and amphibians that make their home in SoCal.
• Live bug encounter!, 10 a.m. – 1 p.m.: Discover the amazing diversity of spiders and insects.
• LA Zoo, 10 a.m. – 1 p.m.: Do an activity with the LA Zoo Classroom Safari Programs.
• Mammal tracks, 10 a.m. – 1 p.m.: Wildlife biologist Thea Wang shows you how to tell what animals are in your area by looking at their tracks.
About Descanso Gardens
Founded as a public garden in 1953, Descanso Gardens is located at 1418 Descanso Drive, La Cañada Flintridge. Descanso Gardens is open daily (closed Christmas) from 9 a.m. to 5 p.m. Admission is $9 for adults; $6 for seniors and students with a school I.D.; $4 for children 5 to 12, and free for ages 4 and younger.
Descanso Gardens is a member-supported garden accredited by the American Alliance of Museums. Join Descanso Gardens and enjoy free admission and early entry year-round. Information: (818) 949-4200 or descansogardens.org.