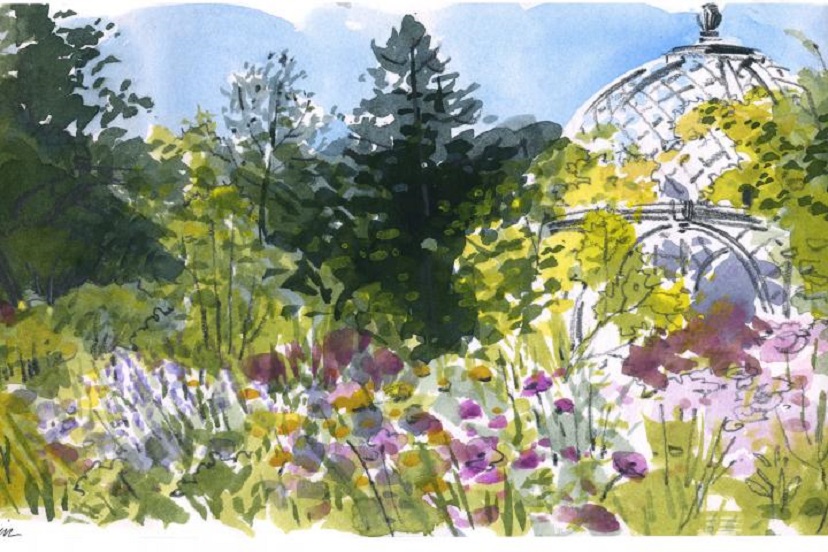 Register for programs at the Visitor Center or phone (818) 949-7980 unless noted. Some classes require advance registration. Find details on classes at descansogardens.org.
Sketching with Color, 4 Saturdays starting June 4, 9 a.m. to noon: Join artist Virginia Hein for a four-week class that focuses on using color in sketching the varied landscapes of Descanso. Students will be emailed a materials list after registration. $90 members, $120 nonmembers. Registration deadline Friday May 27.
Descanso Discoveries Summer Camp, Monday through Friday the weeks of June 20 and June 27, 9 a.m. to 3 p.m.: Descanso will partner with Child Education Center to present two weeks of summer camp for children entering grades 1 to 7. Children will tend to their own garden plot, prepare healthy snacks in the outdoor kitchen, and investigate the wonders of our natural world through art and science-based activities. Free extended care available. $481 per week. Information/registration: (818) 354-3418 or ceconline.org.
Highlighted event:
Summer Nights at Descanso
Chill out at Descanso on hot summer nights! The Gardens are open late Tuesdays through Thursdays, June 7 to July 28, for two concert series, DJ music, food and fun! Entertainment is free with admission.
• Midweek extended summer hours, Tuesdays through Thursdays, June 7 to July 28, 5 to 8 p.m.: A summer tradition, Descanso keeps its gates open late! Enjoy concerts, deejay music and more. The Gift Shop stays open until 8 p.m., and Patina will have food and beverages available for purchase. Descanso members enter free; regular admission for nonmembers. No reciprocal gardens admissions.
• World Rhythms, 8 Tuesdays, June 7 to July 26, 6 to 7 p.m.: This series of world music and dance performances celebrates humankind's connection to nature and gardens. Bring a picnic or purchase Patina grill favorites for a family-friendly evening of fun! Lawn chairs allowed. Lawn seating is first-come, first served. Performers subject to change. See the schedule of performances at descansogardens.org.
• Lakeside Lounge, 8 Wednesdays, June 8 to July 27, 5 to 8 p.m.: Enjoy a cool beer, relax to the sounds of The Flashdance DJ spinning vinyl, and wander through the Rose Garden and Oak Woodland as the sun sets behind the San Rafael Hills. A changing menu of craft beers will be available for purchase, along with gourmet hot dogs and picnic fare from Patina. (Note: Outside picnics are not allowed at this event.)
• Music on the Main, 8 Thursdays, June 9 to July 28, 6 to 7:30 p.m.: Enjoy live music presented by some of the coolest jazz artists in the Southland. This season features both bright newcomers and fan favorites from seasons past. Bring a picnic or purchase Patina tostadas and enjoy a wonderful evening under the Descanso oaks with friends. Lawn seating is first-come, first served. Performers subject to change. Find the schedule of performances at descansogardens.org.
About Descanso Gardens
Founded as a public garden in 1953, Descanso Gardens is located at 1418 Descanso Drive, La Cañada Flintridge. Descanso Gardens is open daily (closed Christmas) from 9 a.m. to 5 p.m. Admission is $9 for adults; $6 for seniors and students with a school I.D.; $4 for children 5 to 12, and free for ages 4 and younger.
Descanso Gardens is a member-supported garden accredited by the American Alliance of Museums. Join Descanso Gardens and enjoy free admission and early entry year-round. Information: (818) 949-4200 or descansogardens.org.