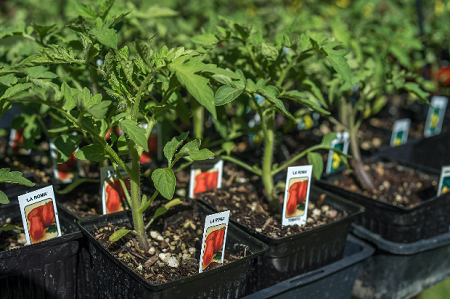 If you're crazy about tomatoes, then this is the event for you! Descanso Gardens will, once again, host TOMATOMANIA! on Saturday and Sunday, March 25 and 26. Renowned as "the world's largest (and most fun) heirloom tomato seedling sale," TOMATOMANIA! will include a plant sale, lectures, cooking demonstrations and much more fun for the entire family.
Leading the team of tomatomaniacs is Scott Daigre, owner of Powerplant Garden Design based in Ojai, California. A dedicated home gardener, Scott shares his love of digging in the dirt through events such as TOMATOMANIA! which is celebrating its 7th year at Descanso Gardens.
"We are so excited to be returning to Descanso Gardens this year," said Daigre. "We'll be showcasing almost 300 tomato varieties and offer everything you'll need to have the most successful tomato season ever. And in a new twist this year, we'll be adding some short classes and expert guest appearances to provide you with even more garden thoughts and expertise!"
All activities listed are for both days and are free with admission:
• Plant Sale. 9 a.m. to 5 p.m. Select from hundreds of healthy seedlings, including heirloom varieties, old favorites and unusual offerings.
• Tomatoblasts. 11 a.m., 1 p.m., & 2 p.m. Get quick tips from experts on growing great tomatoes at these 10-minute talks.
• Tomato Cooking Demo. 12 p.m. Patina chefs prepare flavorful dishes featuring tomatoes.
• Tomato Exploration and Investigation. 10 a.m. to 2 p.m. Fun, hands-on, tomato-themed activities for the whole family to enjoy.
• Patina's Tomato Faves for Purchase. 9 a.m. to 3 p.m. on the Main Lawn.
About Descanso Gardens
Founded as a public garden in 1953, Descanso Gardens is located at 1418 Descanso Drive, La Cañada Flintridge. Descanso Gardens is open daily (closed Christmas) from 9 a.m. to 5 p.m. Admission is $9 for adults; $6 for seniors and students with a school I.D.; $4 for children 5 to 12, and free for ages 4 and younger. Descanso Gardens is a member-supported garden accredited by the American Alliance of Museums. Join Descanso Gardens as a member and enjoy free admission and early entry year-round. Information: (818) 9494200 or descansogardens.org.