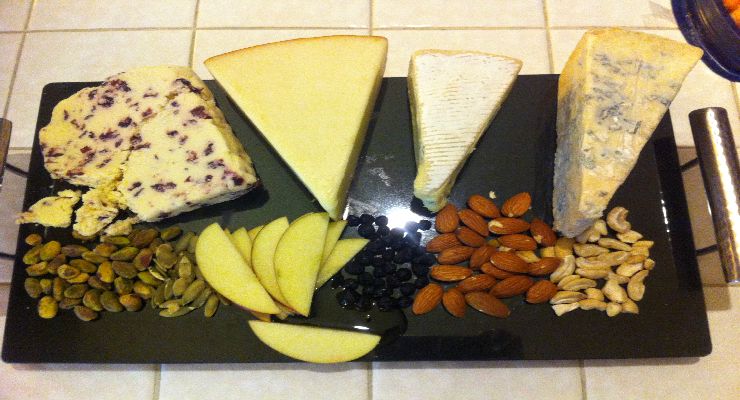 Holiday preparations getting you down? Worry not, because we're breaking down one of the trickiest parts of your festivities—the cheese plate.
Whether you're a cheese and wine pairing expert or a first time host, it's easy to get overwhelmed with the array of cheese choices available in the market today. Tip #1 is to communicate your needs to your vendor. Tell him as much details as you can—how many are your guests? What is this party for? What are your preferred cheeses? Once you've navigated through all the details, your vendor can give you several options.
But remember to not go overboard—literally. Three to five types of cheese on your platter is already generous.
Remember not to ask him to pre-cut your cheese and avoid pre-sliced cheeses. Speaking of slicing: wait to do this right before your party on a separate board so the cuts are fresh. Don't forget to create generous slices, not slivers! Your guests will want to taste the cheese and those slivers just won't do.
It is highly recommended that you take your cheese from the refrigerator about an hour before serving to let it thaw and let the flavors resurface.
For pairings, same rule of thumb applies—do not overwhelm. Go for a modest amount of bread or crackers, pieces of in-season fruit, one jam, and a couple of other pairings like salami, pickles, caramelized onions, and the like. Do not pour your jam over the cheese.
Serving suggestion: if your party is on the bigger side, opt to label your cheese, so you don't have to explain your plate over and over again to batches of guests. Make sure that there are different knives allotted for each cheese, especially for the soft kinds, so you don't contaminate the harder ones.
For those who are extremely pressed for time and prefer to order pre-made cheese platters, Whole Foods Market offers Gourmet Cheese Platter (including a selection of Gorgonzola or blue cheese, fresh goat milk chevre, Swiss Gruyere, English Cheddar, Smoked Holland Gouda), Aficionado Cheese Platter (featuring Campo Montalban, Bucheron, Drunken Goat, Humboldt Fog, burrata, mascarpone, and fig nut cake) and Connoisseur Cheese Platter (with Guilloteau Fromage D'Affinois, Robusto, Drunken Goat cheese, Cypress Grove Humboldt Fog, Aged Wisconsin Cheddar, Campo Montalban), among others.
Whole Foods also offers Emmi Gruyere Reserve, imported from Switzerland and aged for a year.
If you're shopping at Trader Joe's, consider their Six Year Aged Cheddar Cheese, a handmade cheese aged in Vermont, which can be paired with their Multigrain Pita Bite Crackers. Also try the Manchego, a sheep's milk cheese produced in Spain's La Mancha region that's perfect with marinated antipasti vegetables, truffle salami, or their sweet & spicy pecans.
From cheese to pairings and wine, Bristol Farms is your one-stop shop for the holiday. They offer imported Swiss Gruyere and Belgioioso Provolone, Wenslydale with cranberry, and Idiazabal smoked sheep's milk cheese, among others.
The Beas Knees also has an impressive list of cheese offerings, with those imported from France, Germany, Ireland, Italy, The Netherlands, Canada, and those sourced locally, from Texas, Ohio, Connecticut, Massachusetts, and Pennsylvania, among others. The store also offers fine wines and craft beer.
Trader Joe's is located at Shops On Lake Avenue, 345 South Lake Avenue (626-395-9553), 610 South Arroyo Parkway (626-568-9254), and 613 Mission Street, South Pasadena (626-441-6263). For more information, log on to www.traderjoes.com.
Whole Foods Market is located at 465 South Arroyo Parkway, Pasadena and can be reached at (626) 204-2266. For more information, please visit www.wholefoodsmarket.com.
Bristol Farms is located at 606 Fair Oaks Avenue, South Pasadena and can be reached at (626) 441-5450. Log on to www.bristolfarms.com for more information.
The Beas Knees is located at 120 S Raymond Ave, Pasadena and can be contacted through (626) 795-9308. Visit www.thebeaskneespasadena.com for more information.